VAT Information
Prices are quoted both exclusive and inclusive of VAT, but all purchases are charged with VAT. If you are a VAT registered business, such as a school, you can normally reclaim the VAT on purchases. The current rate of VAT applicable is 20%.
If you have any queries, please use the Contact Us form.
Chase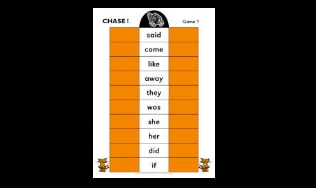 Age 5+
Suitable resource for Early Years-KS1; Reception-Yr2; Nursery-P2
Chase is an exciting cat and mouse game which helps children learn 70 of the essential high frequency words, in line with the National Literacy Strategy.
Chase helps with out of context word recognition and can be used 1 to 1, or for group work.
Includes 7 word sets and a blank board for your own choice of words
Click here to see included words
Helps with
Early Stages Learning
70 Essential High Frequency Words
Word Recognition
RRP: £15.95
Online Price: £13.95
RRP: £13.24
Online Price: £11.58